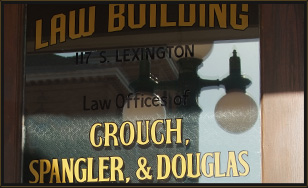 Crouch, Spangler & Douglas, Attorneys at Law, has spent more than a century providing knowledgeable legal representation to individuals, families and business owners in communities south of Kansas City, Missouri. Our dedication to our clients has helped our firm become a legal pioneer in the community of the Kansas City area.
Providing You Trusted and Experienced Legal Advocacy When You Need It Most
With more than 100 years of combined legal experience, our team of attorneys has extensive legal knowledge to help you with a wide selection of legal matters, involving:
Estate planning and probate: From simple wills to sophisticated estate plans and trusts, the attorneys at Crouch, Spangler & Douglas can help you plan for the security of your family. We also assist with probate and probate litigation.
Business and commercial law: Crouch, Spangler & Douglas business lawyers serve as general counsel to many small and medium-sized businesses in Kansas City, Johnson County, Bates County, Henry County and Jackson County. We can help with every business need, from new business formation and employment issues to collections and business disputes. We also represent banks and finance companies and municipalities, water and sewer districts, nonprofit and tax exempt entities and schools.
Personal injury and wrongful death claims: We help injured people and grieving families achieve financial recovery after negligent car, truck or motorcycle accidents. You do not need to go through this difficult time alone. Contact our law office for guidance to ensure you receive all the money you need after a tragic auto accident.
Real estate and construction: Our firm represents housing developers, builders, landlords and homeowners involved in home construction, leasing of commercial and residential properties, and in housing-related disputes in civil court.
Tax law: Our Harrisonville tax attorneys provide broad-based tax services to individuals and business owners handling a wide range of personal, fiduciary and business tax matters. We are committed to helping our clients solve problems regarding IRS assessments and tax audits.
DWI defense: Our criminal defense attorneys protect and defend people facing criminal charges for DWI/DUI.
Traffic violations: We help defend your right to drive by avoiding many of the negative implications of speeding tickets, reckless driving, driving with a revoked or suspended license, and other traffic tickets that could jeopardize your driving privileges.
Civil litigation: We represent plaintiffs or defendants in civil litigation for contract disputes, real estate sales and boundary disputes, and other matters.
Family law: We represent individuals in divorce, child custody, paternity, modification and all other family court matters.
Contact Our Missouri Trust Attorneys Today
We invite you to contact Crouch, Spangler & Douglas, Attorneys at Law, at 816-380-3238 to schedule a consultation at our Harrisonville law office. Our law office hours are 8:30 a.m. to 5 p.m., Mondays through Fridays, and other times by appointment. We accept major credit cards.